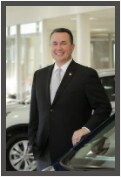 As Chief Operating Officer of the Gillman Companies, Patrick York is responsible for the overall performance of all Gillman Dealerships. He also oversees operations of the various ancillary business service functions.
He is the son of an automobile dealer who once was a new vehicle sales manager at Frank Gillman Pontiac. Patrick grew up working in various dealership departments and after graduating from college, he worked in the legislative affairs department for the Texas Automobile Dealers Association. He completed his formal scholastic education by earning a Bachelor of Arts in Political Science from the University of Texas in San Antonio. He is also a graduate of the National Automobile Dealers Association Dealer Academy.
Prior to joining The Gillman Companies in 2008, Patrick served as Vice President of Marketing for Service Group, an organization providing training and profit programs to automobile dealerships. In this role, he was actively involved with the Gillman Companies for over nine years.
Under his leadership, Gillman has continued to be named a Top 125 Dealership Group by Automotive News. Most recently the firm was credited with being the 40th largest retail automobile dealer group in the nation. The company has reported increased volume and profitability year over year. Multiple dealerships have earned their prestigious manufacturer award for superior customer service and sales including Honda President's Award & Masters Circle, Subaru Stellar Care Award, Chevrolet Mark of Excellence, Mitsubishi Diamond Circle of Excellence and Acura Precision Team Award. The organization is most proud to have received the Houston Chronicle Top Work Place, San Antonio Express Top Work Place Award and the Rio Grande Valley Morning Star Reader's Choice awards multiple times.
Patrick's work involves him with several manufacturers.  He currently serves on the Subaru Regional Advisory Board and previously served on the True Car National Dealer Council and the Customer Advisory Board for Reynolds and Reynolds. He is a member of the Houston Automobile Dealers Association and an active supporter of the Fort Bend Women's Center and a former member of the Katy Youth Basketball Board of Directors and the Association of Finance and Insurance Professionals. 
Patrick has also served as a Corporate Fellow at the University of Houston Downtown MBA program teaching a class on Sales, Leadership and Managerial Performance.